Energy Efficient Heating - Heating Controls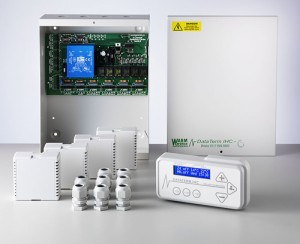 There's a great choice of high-tech equipment available to monitor energy usage in industrial buildings or offices but why can't you use the same technology at home?
Well, now you can, by using the Dataterm heating controller from Warmworld. The Dataterm device is an intelligent heating control unit. Dataterm products can be used at home or in commercial premises to help monitor your heating output and save on energy and costly bills. It's not that long ago when the whole country was horrified at the massive rises in gas and electricity prices so making the most of intelligent technology available to streamline your central heating system can only be a good thing.
Smart Home Technology - Save Energy
The Dataterm device is a programmable computer system that you can set in advance to control your heating and hot water systems in a much more detailed way than a simple timer and a separate thermostat. The computerized system lets you load pre-created plans into it and also add your own personal plans. You can alter it for different seasons by changing the summer and winter times. It is very easy to program and it comes with an "Idiots Guide to Dataterm" to help you even more. Dataterm not only acts like a normal timer/thermostat controller, once it is set up and running, it learns over time how your home reacts to cool and hot temperatures and references this data to avoid atmospheric variations.
Flexible, Reliable & Cost Saving Heating Controls
The Dataterm heating control system is fully editable, and depending on which model you purchase it has up to 30 built-in plans with many variations already programmed for you to choose from. And your personalised one can be edited at a press of a button. This means that when you need to dramatically adjust the daily and weekly settings when you go on holiday or have an extended absence from home it's a cinch to customise these settings. You can also override the temperature control temporarily if you require a bit more or less heat one day too.
Wrap Up Your Home with Dataterm Heating Controls
Warmworld has over 30 years of experience in manufacturing energy saving heating controls. Our top of the range products can keep you toasty and your house energy efficient with the most efficient central heating systems available today. Find out more from our web site and call us today on +44 (0) 117 949 8800.