Save the Planet - Install an Intelligent Heating Control System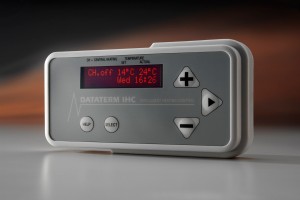 Stay in control of your own environment with intelligent heating controls.
Dataterm is one of the most highly technical and sophisticated systems to buy today. If you're interested in saving energy and money on your heating and hot water usage then Dataterm heating controls are a must in your home.
Clever Heating Controls – Dataterm IHC
Our Dataterm IHC system is available to use in existing central heating systems. It can be used with combi-boilers, condensing boilers and work with multiple boilers in large buildings in sequence. If a building needs two or more boilers to generate enough heat for the capacity and use of the buildings then a Dataterm Sequencer can sit between the boilers and automatically turn on and off as required. This reduces running costs and saves on wear and tear in the long term.
Warmworld WEEE Regulations – Waste Electrical & Electronic Equipment
Here at Warmworld we take our responsibilities seriously. Not only do we develop and manufacture top quality energy saving devices we make sure that our own carbon footprint adheres to government guidelines. For every unit of electrical device we sell we recycle your old one in line with the WEEE regulations.
Order Online Today & Start Saving Money NOW!
If you want to install heating controls in your home get in touch with Warmworld today. For more in-depth information about any of our top quality products contact us on + 44(0)117 949 8800. Alternatively email us via the online contact form provided. You can save up the 25% on your annual heating bills by installing an intelligent home system like Dataterm.