Monitoring Fuel Useage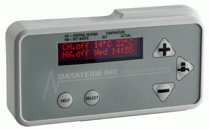 Do you know how long your heating was on today?

Chances are it was too long, if you get up at 7am you may have set it to come on at 6am and turn off at 9am so that's 3 hours and maybe 4pm until 10pm so that's 6 hours giving a total run time of 9 hours every day.

Dataterm counts in hours and minutes to show you not just how long the heating has been on but to demonstrate its ability to save money by using its various features.

Run time is shown for the current day, yesterday and total run time since installation, you will notice different run times as the days pass proving that Dataterm really does work.

All this information is available by pressing the HELP button, how easy is that?