Energy Savings
Dataterm provides a new way of controlling the heating in houses and small non-domestic properties alike. It's "fuzzy logic" replaces the standard on/off programming of conventional programmers to give you the control you normally only get with complex expensive systems installed in larger commercial buildings. It is truly self-learning and easy to use and install and has won a millennium product award for it's potential to save energy and help the environment.


Why Dataterm is Clever - Optimum Start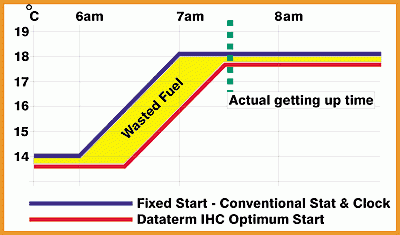 Optimisation as its also known is how Dataterm can literally save you £s... Most people set the time for their heating to come on at least an hour before they need it.
Dataterm being clever works out the best time to turn on the heating thus removing the need for a fixed heat up time, this is very valuable as some days the heat up time might be 15 minutes and others 25 minutes and so on.
Straight away you have reduced the amount of fuel you have used and achieved the required temperature at the set time.
So with Dataterm there's no more setting the clock to come on early whether it needs to or not, and that's not all, Dataterm does the same thing when turning off and you wont even notice, oh until you have to pay the fuel bill that is...
Boiler Sequencer
Saving Fuel - Boiler Sequencing Click Here
Condensing Boilers
Saving Fuel - Condensing Boilers Click Here