Controlling the Heat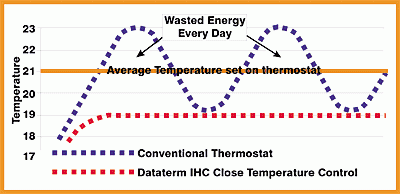 Ordinary room thermostats (if you have one) don't always maintain an even temperature; this is basically because of the nature of the design and often cause large variations in temperature.
For instance the thermostat may allow the temperature to rise above the required temperature by some 1-3 degrees before turning off the heating and the same below when turning back on.
Not only is this a waste of heat and fuel but it makes you feel uncomfortable as well, Dataterm accurately controls the heating to within 0.3°C by increments of 0.1°C saving you from hot and cold shifts in temperature and reducing your fuel usage.
Dataterm can further enhance the economic running of gas or oil condensing boilers allowing for a more balanced duty cycle and can keep the boiler in condensing mode for longer transfering more usually wasted heat in to useful heat.